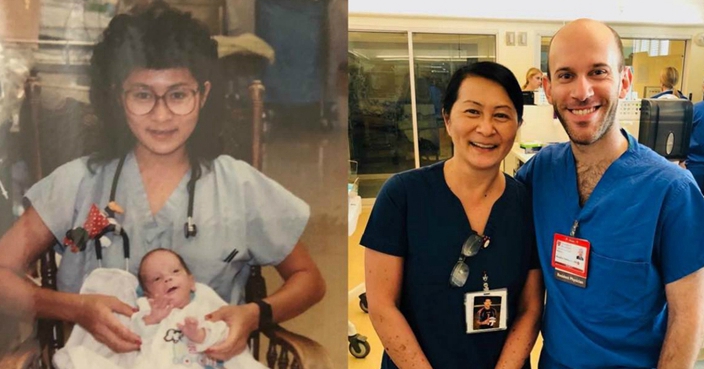 Nurse discovers her colleague is the premature baby she cared for 28 years ago
Vilma Wong was Brandon Seminatore's primary care nurse 28 years ago – now they're working together.
A nurse got a shock when she discovered one of her colleagues was a premature baby she had cared for 28 years ago.
Vilma Wong immediately thought she recognised the name of Brandon Seminatore, a second-year paediatric neurology resident at Lucile Packard Children's Hospital in California.
She told the hospital's website: "Brandon was on my team and taking care of one of my patients. I asked who he was and his last name sounded very familiar.
"I kept asking questions, like where he was from and he told me he was from San Jose, and that as a matter of fact, he was a premature baby born at our hospital. I then got very suspicious because I remember being the primary nurse to a baby with the same last name.
"To confirm my suspicion, I asked him if his dad was a police officer. And there was a big silence. Then he asked me if I was Vilma. I said yes!"
It turned out Brandon's mum, who had kept hold of a photo of Vilma holding her son, had asked him to keep an eye out for the nurse when he began his residency, but he simply assumed she would have retired by now.
Brandon, who was born at 29 weeks, described meeting the nurse as "surreal".
He said: "When Vilma recognised my name, it truly sank in that I was one of these babies.
"I've come full circle and I'm taking care of babies with the nurse that took care of me."
Staff at Sewerby Hall and Gardens ...
Soundtracks of birdsong and weathe ...