Video: Woman mends her broken heart after "messy divorce" by travelling the world with her cuddly toy
 Vicky Sosa is 35 – but still spends every day with her teddy Buddy.
An adventure-loving singleton has told how she is up to some serious monkey business – globetrotting with a cuddly primate toy, which has helped to mend her broken heart.
Buddy the Travelling Monkey has amassed tens of thousands of followers on social media, as his owner Vicky Sosa, 35, takes funny pictures of him in amazing locations around the world.
The jet-setting toy has clocked up thousands of air miles with data manager Vicky, who claims Miami, Florida, USA, as her home, but describes herself as "nomadic" – house sitting her way across the world with Buddy.
Now the well-travelled grey monkey has been pictured in locations ranging from Bali in Indonesia, Loch Ness in Scotland and Machu Picchu in Peru.
He has also visited Reykjavik in Iceland, Angkor Wat in Cambodia, Lake Quilotoa, Equador, and been on a hot air balloon in Florida with Vicky, who gave up her home to travel, documenting Buddy's journey on her blog.
Vicky, who writes reviews for tourist boards to supplement her income, said: "I bought Buddy for around $15 (£11.82) at a Miami Dolphins football game in December 2012.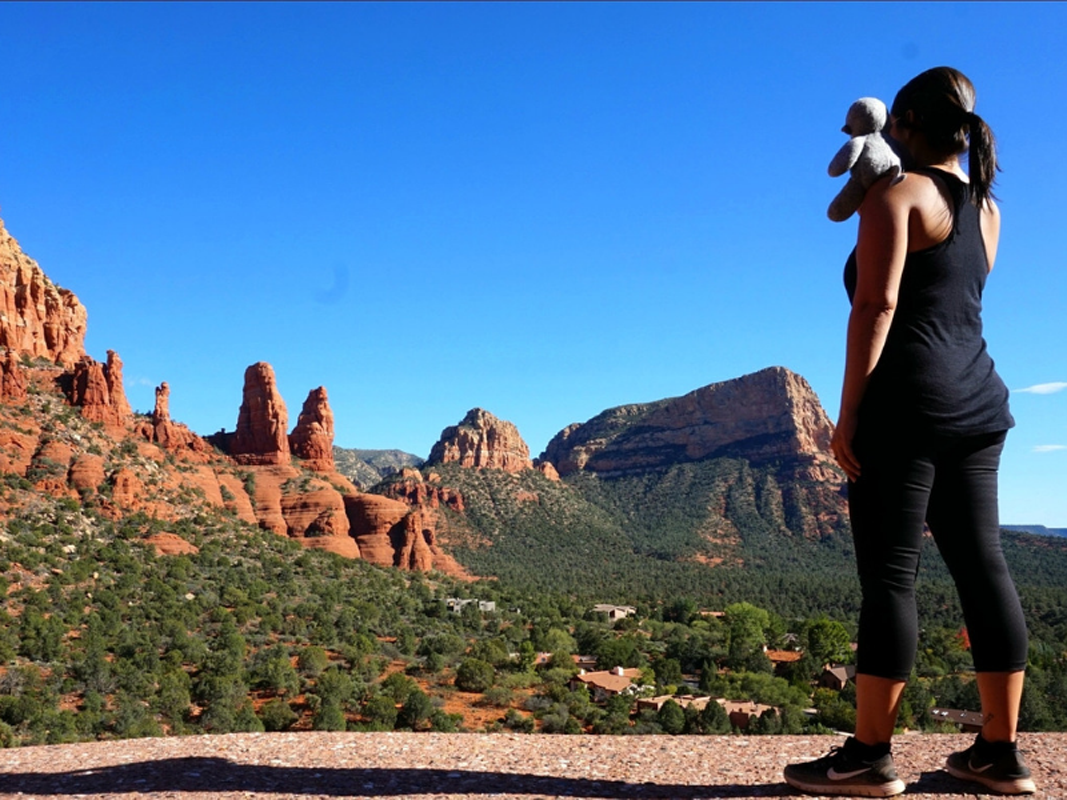 "I'd had a bad break-up after a two-year relationship ended. I was pretty cut up about it. My ex used to buy me stuffed toys and when we split up I threw them all away.
"When I saw Buddy in the souvenir shop I thought he was cute. I'd just got rid of all my stuffed animals and I thought, 'I'll buy my own, I don't need a guy to buy one for me'.
"I thought, 'Guys will come and go but Buddy will always be with me. He will be a constant.'"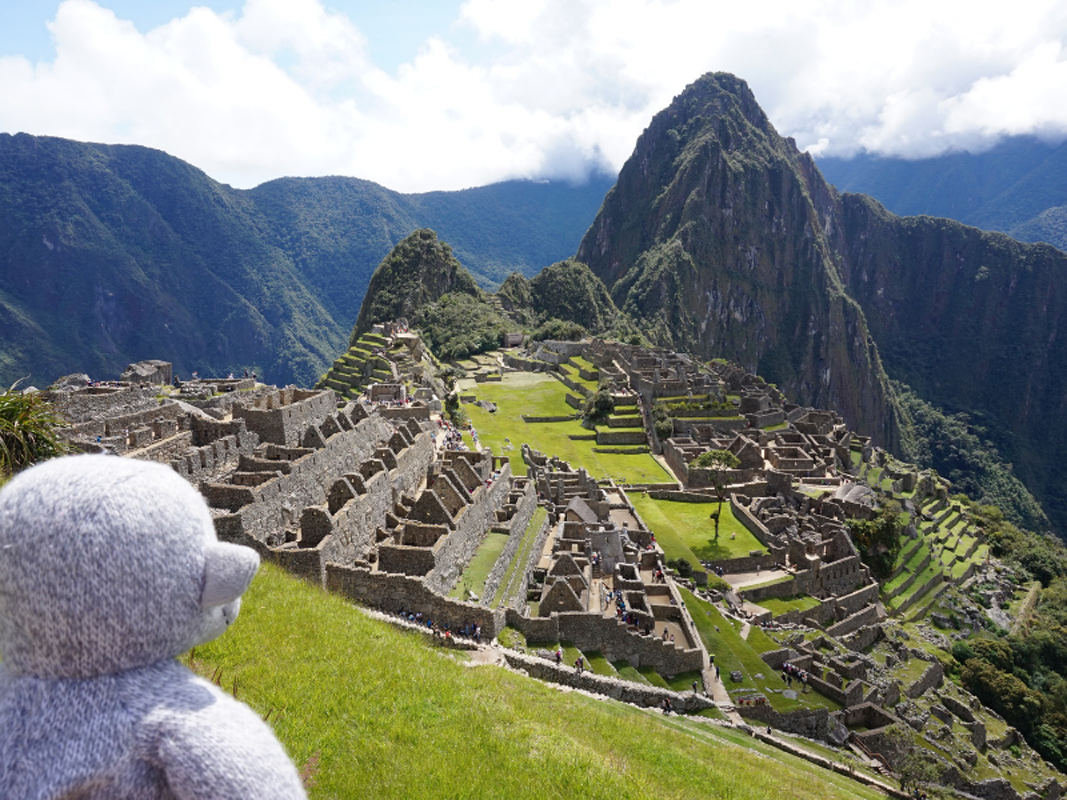 Not unlike Liz Gilbert (Julia Roberts) in the film Eat, Pray, Love, which chronicles the author's travels after her divorce, Vicky – who has no children – decided she would travel to Bali in Indonesia and take Buddy with her.
She explained: "It was a pretty tough break up, so I decided to do my own 'Eat, Pray, Love' thing and in May 2013 I took myself and Buddy to Bali. It was my first big trip on my own, so I took him with me to keep me company.
"People would see me with him and think it was really funny. At the time I was also trying to get my blog noticed and wondered how I could stand out. So, I would take pictures of him and put them on social media accounts under Buddy the Travelling Monkey."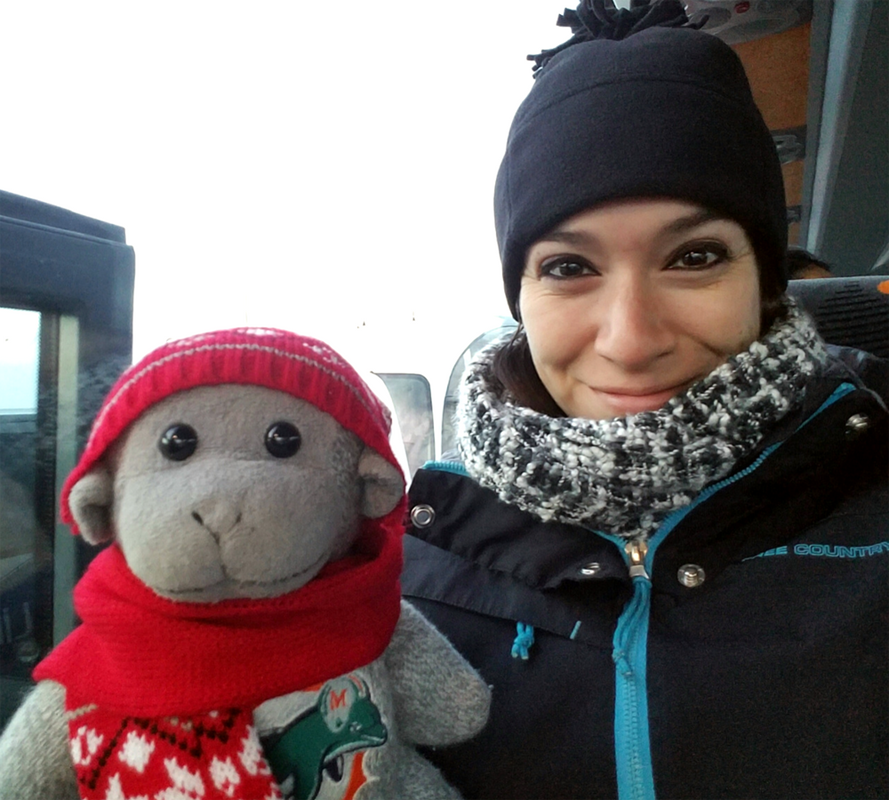 She added: "He's been to about 12 countries so far, including Indonesia, Colombia, Cambodia, Thailand, Ecuador, Panama, Peru, Iceland, France, Honduras, England and Scotland, as well as all over the US. He now comes with me everywhere apart from the grocery store!'
Vicky is now so attached to Buddy she actually misses him if she leaves him at home.
She said: "I feel really sad when I have to leave him behind. I prop him up on the table and tell him he'll be okay. I think his favourite trip was Bali, because it was his first international journey."
She continued: "He's my security blanket. Especially during that first trip to Bali when I felt vulnerable. Although you make friends it does get lonely travelling around, but he's always there for me."
Vicky explained how two years ago she gave up a good government job working as a secretary at a veteran's hospital in Miami to join a small insurance company, that allowed her to work remotely and pursue her love of travel and blogging.
Now she describes herself as 'nomadic,' having given up her apartment and belongings to travel across the globe with Buddy house and pet sitting.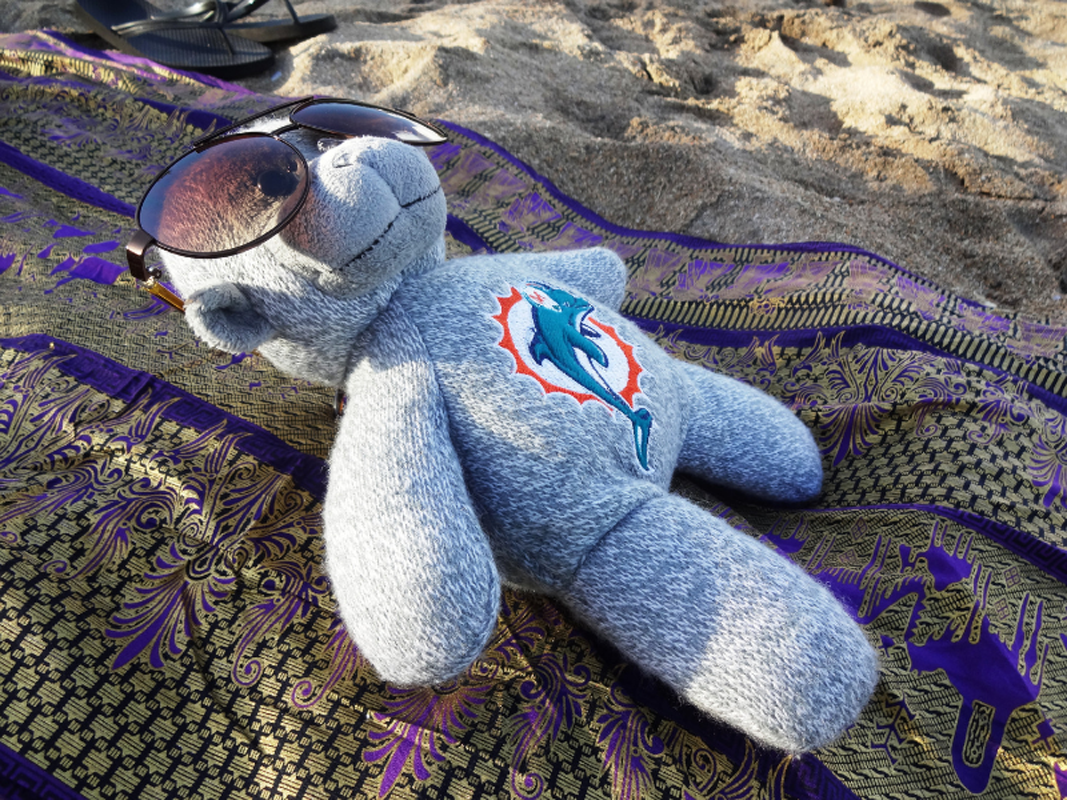 Vicky, who has visited more than 35 countries, explained: "It's been really great because I still have a little bit of money coming in from part time work. I don't have to pay rent or a mortgage. Most of the time I'm on the road house or pet sitting.
"I also do reviews for tourism boards visiting museums or restaurants or staying in hotels and uploading content to social media or reviewing them on my blog. That way I don't have to pay.
"Before I would just get to know a place then have to leave, but the best thing about being nomadic is that I get to spend more time there. I look for house sits which are usually four to five weeks, so I get to know the place and the people. It's the best."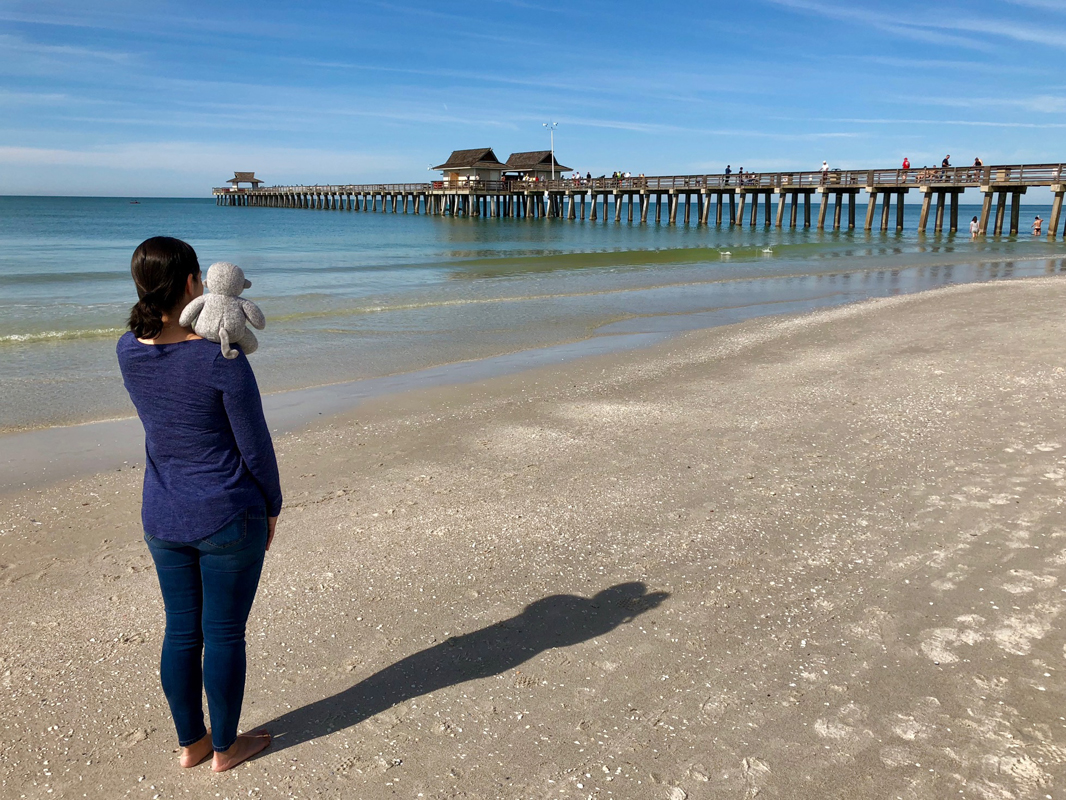 She added: "I do a lot of these in the US, but recently spent about three weeks in Honduras cat sitting and I'm hopefully coming to Manchester, UK, to do another."
After a divorce in 2010, following a six year marriage, Vicky let her ex-husband keep a lot of their belongings and started from scratch, buying furniture and household items.
She rented an apartment in Miami, which she has now sold to travel, although she has possessions in storage there, as her dad lives there, and she uses the city as her base.
She recalled: "In 2010 I got divorced. We were together for eight years and married for six, but it was a messy divorce and I wanted to end it quickly, so I let him keep most of the things.
"As I started a new chapter I bought my own stuff, but two years ago I decided to give that up to live nomadically.
"I have a tight budget. I have my part time job and money from housesitting, but I do end up eating a lot of breakfast cereal. To be able to travel you do have to live on a budget. I'm free as a bird now and feel so much stronger. I have no attachments and am free to go wherever I want to go."
For now, Vicky and Buddy have no desire to put down roots and have housesits planned in Guatemala, South America, in September and hope to visit Japan in the next few months.
"I have no idea how many miles Buddy has covered. I know that in 2018 we travelled for 8,000 miles, though," she said. "He's seven years old now so it must be tens if not hundreds of thousands altogether.
"He has become really popular. I posted a lot of pictures of landscapes on social media,  but people started messaging me asking what Buddy had been up to."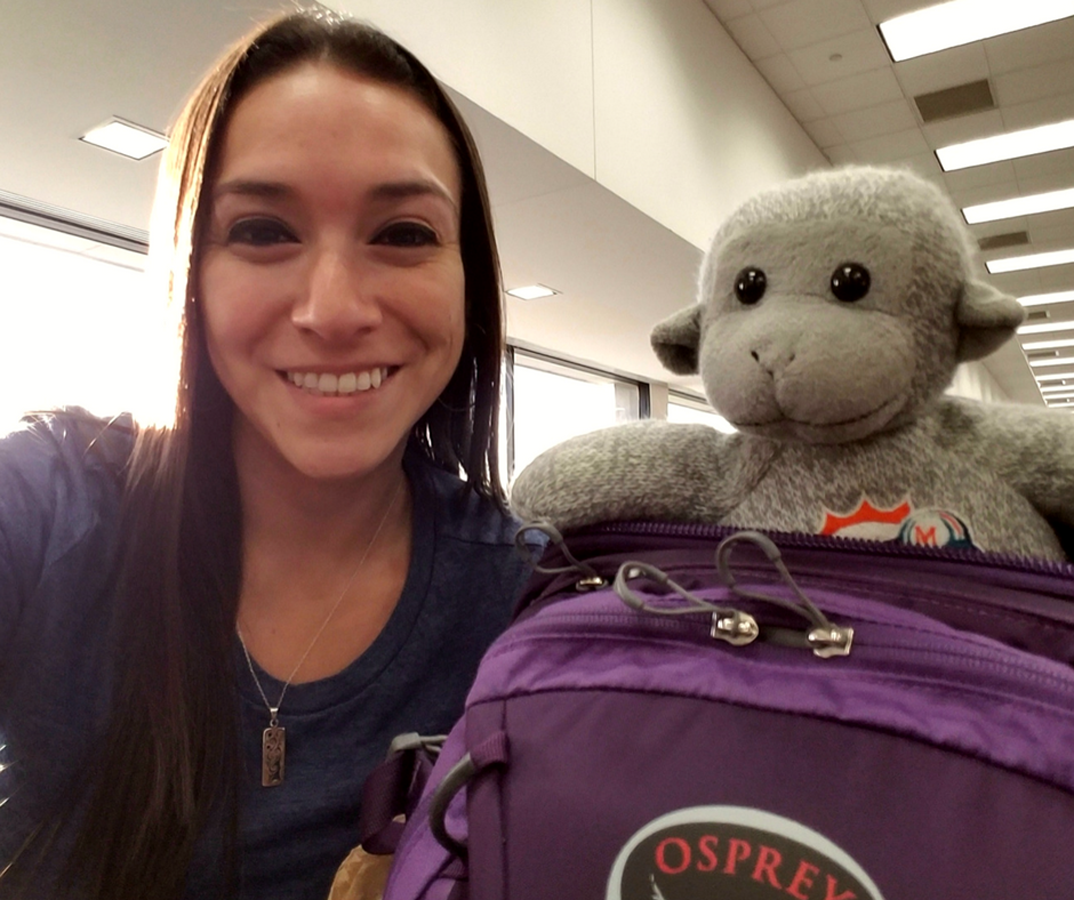 She continued: "When I'm travelling if I have him sticking out of the top of my rucksack people run up to him and say, 'You're Buddy.' People don't know my name but recognise him.
"They always want to take pictures of him. He's quite famous, but he's not let it go to his head. It's cute and it's a conversation starter.
"I've also met up with other people that take their stuffed toys travelling with them and we'll take a picture of them together."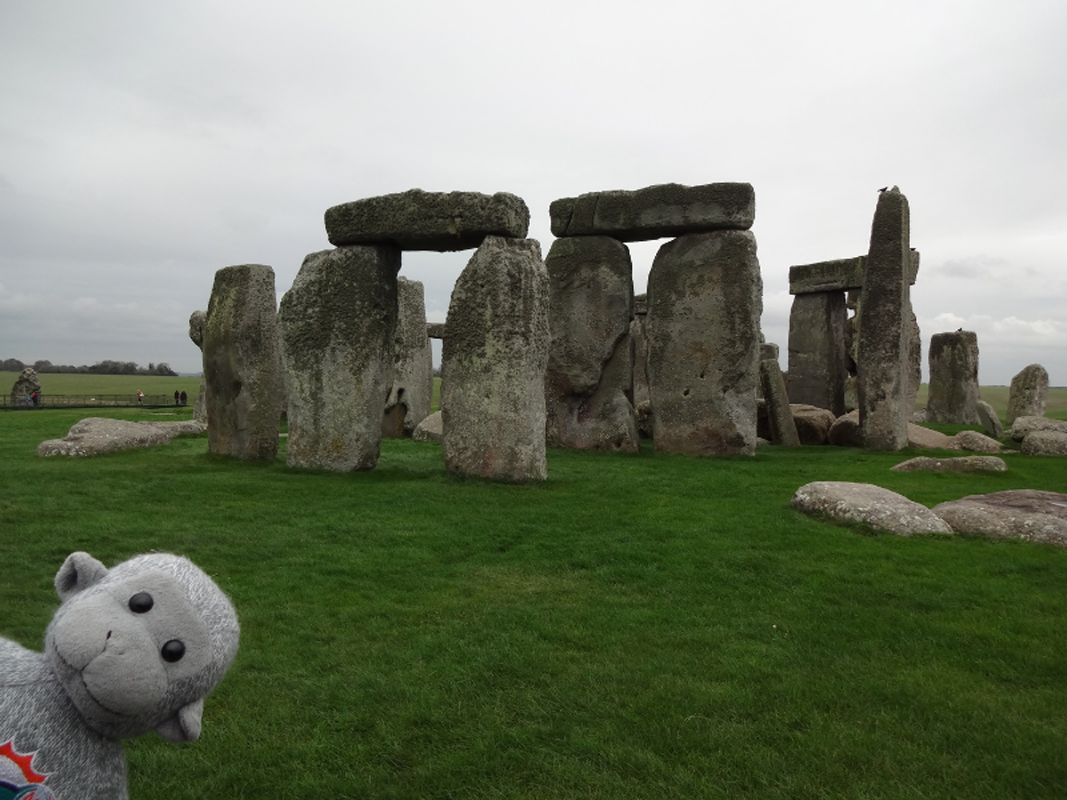 Something of a social media star, Buddy has 20,000 followers on Instagram and more than 33,000 on Twitter.
"Thankfully I've never lost him. I think I'd die if I lost him," Vicky continued. "When I set him up for a picture I have to be really careful. I let someone hold him on the Empire State Building before and was so worried he'd get dropped off the edge.
"If I prop him up somewhere I make sure he's not in any dirt or anything. I've only washed him about twice, because I'm so scared he will fall apart. I've tried to find another Buddy on eBay in case something happens and although he was only a souvenir bear, I've never been able to find another one."
Explaining that she would love to work with kids one day, encouraging them to love travelling, too, Vicky hopes Buddy will be able to help with that.
"I'd love to do a little travel series for kids and having a stuffed animal will really help with that," she said.
"Buddy has been my rock and I don't know what I would have done without him. He's proof that anyone can travel the world and I can't wait to see what the next adventure will bring."
To follow Buddy and Vicky visit www.buddythetravelingmonkey.com or @buddythetravelingmonkey on Instagram
Staff at Sewerby Hall and Gardens ...
Soundtracks of birdsong and weathe ...