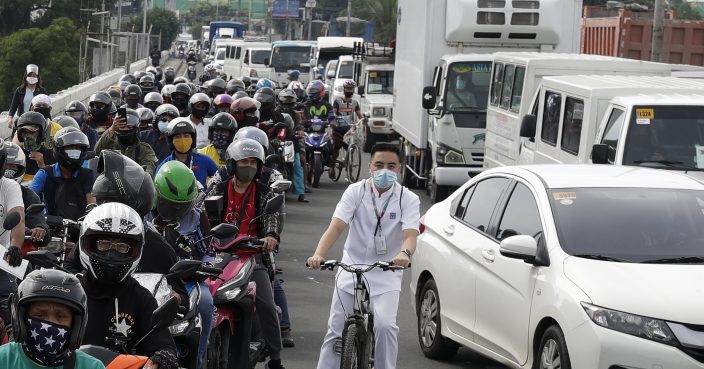 AP News Digest 3:40 a.m.
Here are the AP's latest coverage plans, top stories and promotable content. All times EDT. For up-to-the minute information on AP's coverage, visit Coverage Plan at https://newsroom.ap.org.
------------------
TOP STORIES
------------------
TROPICAL-WEATHER — Hurricane Isaias has made landfall near Ocean Isle Beach, North Carolina, according to the National Hurricane Center. The Category 1 storm, packing 85 mph winds, set off flooding and sparked five home fires in Ocean Isle Beach, the town's mayor told a local TV station. By Sarah Blake Morgan. SENT: 1,050 words, photos, videos.
VIRUS OUTBREAK-EVICTIONS — Housing advocates fear that they could see a wave of evictions in the coming months, as states end moratoriums put in place during the coronavirus pandemic. By Regina Garcia Cano and Michael Casey. SENT: 1,230 words, photo.
VIRUS OUTBREAK-NURSING HOMES — The Trump administration's plan to provide every nursing home with a fast COVID-19 testing machine comes with an asterisk: The government won't supply enough test kits to check staff and residents beyond an initial couple of rounds. By Ricardo Alonso-Zaldivar. SENT: 860 words, photo.
AMBASSADORS BEHAVING BADLY — In Iceland, the U.S. ambassador wants guards who pack heat. In Britain, the U.S. ambassador is accused of pushing business deals for the president's resorts. And, in France, Germany, the Netherlands, Canada and South Africa, among others, U.S. envoys have and are pushing the limits, infuriating career diplomats who work under them and irritating host governments. By Egill Bjarnson and Matthew Lee. SENT: 1,000 words, photos.
JAPAN-HIROSHIMA-LAST-WITNESSES — For nearly 70 years, until he turned 85, Lee Jong-keun hid his past as an atomic bomb survivor, fearful of the widespread discrimination against blast victims that has long persisted in Japan. But Lee, 92, is now part of a fast-dwindling group of survivors that feels a growing urgency to tell their stories. These last witnesses to what happened 75 years ago this Thursday want to reach a younger generation that they feel is losing sight of the horror. By Mari Yamaguchi. SENT: 1,180 words, photos.
IRAQ-ELECTRICITY-WOES — In Iraq's oil-rich south, the scorching summer months pose painful new choices in the age of the coronavirus: stay at home in the sweltering heat with electricity cut off for hours, or go out and risk the virus. By Samya Kullab and Nabil Al-Jurani. SENT: 1,110 words, photos.
———————————————————————
MORE ON THE VIRUS OUTBREAK
———————————————————————
VIRUS OUTBREAK — Putting your child on the bus for the first day of school is always a leap of faith for a parent. Now, on top of the usual worries about youngsters adjusting to new teachers and classmates, there's COVID-19. SENT: 1,350 words, photos, video. With VIRUS-OUTBREAK-THE-LATEST.
VIRUS OUTBREAK-CONGRESS — Negotiators on a huge coronavirus relief bill report slight progress after talks resume in the Capitol, with issues like food for the poor and aid to schools struggling to reopen safely assuming a higher profile in the talks. SENT: 820 words, photos.
VIRUS-OUTBREAK-ASIA — Commuter trains, buses and other public vehicles stay off the main roads of the Philippine capital and police are again staffing checkpoints to restrict public travel as surging virus cases forced another lockdown. SENT: 720 words, photos.
VIRUS-OUTBREAK-EDUCATION-IMPACT — U.N. Secretary-General Antonio Guterres says the coronavirus pandemic has led to the largest disruption of education in history, with schools closed in more than 160 countries in mid-July, affecting over 1 billion students. SENT: 640 words.
Find more all-format coverage on the Virus Outbreak featured topic page in AP Newsroom.
------------------------------------
WHAT WE'RE TALKING ABOUT
------------------------------------
PACIFIC-SOS-RESCUE — Three men rescued from Pacific island after writing SOS in sand. SENT: 240 words, photos.
VIRUS OUTBREAK-NEW ZEALAND-HONEYMOONERS — Stranded by virus, honeymooners hitch home on Antarctic boat. SENT: 770 words, photos.
AUSTRALIA-IRAN — Australia: British-Australian woman in Iran prison "is well." SENT: 360 words.
CHINA-TYPHOON — Heavy rains hit eastern China from weakening tropical storm. SENT: 200 words, photos.
------------------------------------
WASHINGTON/POLITICS
—————————————————
ELECTION 2020-VP-GENDER POLITICS — The debate over Joe Biden's running mate has recently ticked through a familiar list of stereotypes about women in politics. SENT: 920 words, photos. With ELECTION 2020-VP-VETTING COMMITTEE — Who's who on the committee vetting Biden's possible VPs.
ELECTION 2020-SENATE-KANSAS — Establishment Republicans seek to thwart polarizing conservative Kris Kobach's bid for Kansas' open Senate seat, a task complicated by President Donald Trump's refusal to endorse their favored candidate in the primary. By Political Writer John Hanna. SENT: 620 words, photos.
ELECTION 2020-MICHIGAN-HOUSE 13 — "Squad" member Rashida Tlaib is trying to fend off a serious challenge for her House seat in Michigan's primary, in a rematch with the woman she narrowly defeated two years ago. SENT: 300 words, photo.
Find more coverage of the 2020 U.S. Elections.
WHITE-HOUSE-HUMAN-TRAFFICKING — The Trump administration is awarding more than $35 million in Justice Department grants to organizations that provide safe housing for survivors of human trafficking. SENT: 320 words, photo.
————————————-
INTERNATIONAL
————————————-
KASHMIR-DEMOGRAPHIC FEARS — A year after India ended disputed Kashmir's semi-autonomous status and downgraded it to a federally governed territory, authorities have begun issuing residency and land ownership rights to outsiders for the first time in almost a century. SENT: 1,160 words, photos. With KASHMIR-SECURITY CLAMPDOWN — Curfew in parts of Kashmir ahead of revocation anniversary.
SRI LANKA-ELECTIONS — Sri Lanka's powerful, popular Rajapaksa brothers are likely to get strong support in parliamentary elections that could add to their family political dynasty and their ability to amend the constitution – a prospect raising fears of weakening government institutions and the rule of law. SENT: 840 words, photos. With SRI-LANKA-ELECTION-GLANCE.
————————
NATIONAL
———————-
GYM-DOCTOR-SEXUAL-ASSAULT-COACH — A former Michigan State University head gymnastics coach is scheduled to be sentenced for lying to police during an investigation into ex-Olympic and university doctor Larry Nassar. SENT: 450 words, photo.
CALIFORNIA WILDFIRES — A wildfire in mountains east of Los Angeles that has forced thousands of people from their homes was sparked by a malfunctioning diesel vehicle, fire officials say. SENT: 570 words, photos.
———————-
BUSINESS/ECONOMY
———————-
FINANCIAL-MARKETS — Shares advanced across Asia after Wall Street closed broadly higher on encouraging economic reports, starting off August by closing within 3% of the record high it set in February. By Business Writer Elaine Kurtenbach. SENT: 720 words, photos.
————————
HEALTH/SCIENCE
————————
RARE WILDFLOWER-NEVADA LITHIUM MINE — A botanist hired by a company planning to mine one of the most promising deposits of lithium in the world believes a rare desert wildflower at the Nevada site should be protected under the Endangered Species Act, a move that could jeopardize the project, the AP has learned. By Scott Sonner. SENT: 950 words, photos.
————————————-
ENTERTAINMENT
————————————
MEDIA-ERODING-TRUST — The distrust many Americans feel toward the news media, caught up like much of the nation's problems in the partisan divide, only seems to be getting worse. By Media Writer David Bauder. SENT: 510 words.
GOLDEN-GLOBES-REPORTER-LAWSUIT — A Norwegian entertainment reporter sues the Hollywood Foreign Press Association, the organization that gives out the Golden Globe Awards, alleging that it acts as a cartel that stifles competition for its members. By Entertainment Writer Andrew Dalton. SENT: 450 words, photo.
-----------------------
HOW TO REACH US
-----------------------
At the Nerve Center, Jerome Minerva can be reached at 800-845-8450 (ext. 1600). For photos, Wally Santana (ext. 1900). For graphics and interactives, Dien Magno (ext. 7636). Expanded AP content can be obtained from https://newsroom.ap.org. For access to AP Newsroom and other technical issues, contact apcustomersupport(at)ap.org or call 877-836-9477.
Promises to build a wall. Descript ...
A western Montana couple were able ...