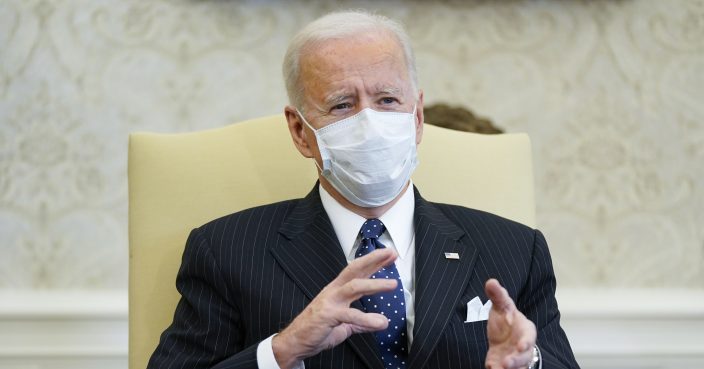 AP News Digest 3:40 a.m.
Here are the AP's latest coverage plans, top stories and promotable content. All Times EST. For up-to-the minute information on AP's coverage, visit Coverage Plan at https://newsroom.ap.org.
—————————
ONLY ON AP
—————————
BIDEN-IMMIGRATION-BORDER — Larger numbers of immigrant families have been crossing the U.S.-Mexico border in the first weeks of President Joe Biden's administration. Warning signs are emerging of the border crises that marked former President Donald Trump's term: Hundreds of newly released immigrants are getting dropped off with nonprofit groups and there are growing accounts of prolonged detention in short-term facilities. By Nomaan Merchant. SENT: 1,050 words, photos.
TRUMP-IMPEACHMENT — Trump's impeachment trial resumes, a day after a detailed and emotional presentation by Democratic prosecutors was followed by meandering arguments from the former president's defense team. By Lisa Mascaro, Eric Tucker, Mary Clare Jalonick and Jill Colvin. SENT: 1,100 words, photos, video. UPCOMING: 1,200 words after trial resumes at noon. With TRUMP-IMPEACHMENT-WHAT TO WATCH — What to expect on day two; TRUMP-IMPEACHMENT-HIGHLIGHTS — History lessons, Trump tweets and more; TRUMP-IMPEACHMENT-FACT CHECK — Trump's lawyers stretch the Constitution.
Find complete coverage of the impeachment on the AP Newsroom hub.
BIDEN-PENTAGON — Biden is making his first visit to the Pentagon as commander in chief, taking stock of a military as it pivots from the turmoil of the Trump years and focuses to an unusual degree on domestic and internal issues. By Robert Burns and Lolita C. Baldor. SENT: 750 words, photos. UPCOMING: 900 words after 2 p.m. arrival at Pentagon.
MYANMAR — Crowds demonstrating against the military takeover in Myanmar again defy a ban on protests, even after security forces ratcheted up the use of force against them and raided the headquarters of the political party of ousted leader Aung San Suu Kyi. SENT: 650 words, photos.
VIRUS-OUTBREAK-FRANCE-ISLAND-INEQUALITY — Mayotte's main tourist office stands nearly empty, a lonely tropical outpost overlooking a people-less port. Its only hospital, however, is overwhelmed. The demand for intensive care beds is more than triple the supply, as medical workers fight to contain the French Indian Ocean territory's worst coronavirus outbreak yet. By Sony Chamsidine and Angela Charlton. SENT: 1,100 words, photos.
VIRUS-OUTBREAK-ISRAEL-ULTRA-ORTHODOX — Israel's ultra-Orthodox community has come under heavy criticism for holding large funerals and weddings in violation of coronavirus restrictions. The gatherings have brought clashes with police and unprecedented public anger toward the religious community. But many of its members believe Israeli society fails to understand their way of life and has turned the community into a scapegoat. By Ilan Ben Zion. SENT: 1,100 words, photos.
MARS MISSIONS — A Chinese spacecraft appears poised to enter orbit around Mars, one day after an orbiter from the United Arab Emirates did so and about a week ahead of an American attempt to put down another spacecraft on the surface of the red planet. By Sam McNeil. SENT: 460 words, photo.
MAVERICKS-CUBAN-ANTHEM — Mavs owner Cuban stops playing national anthem at home games. SENT: 150 words, photo.
MARINES-MISSING-EXPLOSIVES — Missing explosives from Marine base under investigation. SENT: 110 words.
AUNT-JEMIMA-NEW-NAME — Aunt Jemima brand gets a new name: Pearl Milling Company. SENT: 210 words, photo.
SALESFORCE-WORKING-FROM-HOME — Salesforce won't force workers to go into office post-COVID. SENT: 200 words, photo.
CAPITOL BREACH-MICHIGAN — Michigan GOP leader calls Capitol riot a "hoax from day one." SENT: 700 words, photos.
VIRUS-OUTBREAK-SOUTH-AFRICA-VACCINES — South Africa will give the unapproved Johnson & Johnson vaccine to its front-line health care workers beginning next week as a study to see what protection it provides from COVID-19, particularly against the variant dominant in South Africa, the health minister announces. SENT: 280 words, photos. With VIRUS-OUTBREAK-THE LATEST.
JAPAN-QUARANTINE-WHAT-IT'S-LIKE — What's it like traveling to Japan, six months ahead of the Olympics? Almost impossible, unless you're a Japanese national or a foreigner with resident status. SENT: 840 words, photos.
VIRUS-OUTBREAK-PHILIPPINES-DRAGON-DANCERS-PHOTO-GALLERY — Raucous dragon dance shows have been banned in Manila's Chinatown due to the pandemic, casting aside a crowd-drawing Lunar New Year tradition many believe helps drive misfortunes away. SENT: 460 words, photos.
VIRUS-OUTBREAK-GERMANY-BREWERS — The closure of bars and the cancellation of major events in Germany are a big problem for the country's many small brewers, which rely heavily on selling draft beer to bars and restaurants. SENT: 630 words, photos.
VIRUS-OUTBREAK-THE-GARDEN-IN-WINTER — Deep into this pandemic winter, it's worth noting everything that a garden offers — indoors, outdoors and even in our own minds. SENT: 920 words, photos.
VIRUS-OUTBREAK-CAMBODIA — Three sons of Cambodian leader Hun Sen were inoculated against COVID-19 as the country began distributing vaccines donated from its closest ally, China. SENT: 300 words, photos.
Find more coverage on the Virus Outbreak on the featured topic page in AP Newsroom.
WASHINGTON/POLITICS ————————————————-
TRUMP IMPEACHMENT-TRUMP — Trump fumed that his attorneys' performance on the opening day of his second impeachment trial was a disaster as allies and Republican senators questioned their strategy. SENT: 820 words, photos. With TRUMP-IMPEACHMENT-CASSIDY — GOP senator flips on impeachment trial, rips Trump lawyers.
TRUMP-IMPEACHMENT-RASKIN — Congressman Jamie Raskin evokes tragedy in his own life as he argues for Trump's conviction during the former president's second impeachment trial. SENT: 590 words, photos, video.
BIDEN-ECONOMY — House Democrats muscle past Republicans on major portions of Biden's pandemic plan, including a proposed $130 billion in additional relief to help the nation's schools reopen and a gradual increase of the federal minimum wage to $15 an hour. By Collin Binkley. SENT: 900 words, photos.
————————————
INTERNATIONAL
———————————
INDONESIA-PLANE CRASH — A malfunctioning automatic throttle may have caused the pilots of a Sriwijaya Air jet to lose control, leading to the plane's plunge into the Java Sea last month, Indonesian investigators say. SENT: 140 words. UPCOMING: Developing, will be updated, photos.
IRAN-REVOLUTION-ANNIVERSARY — Struggling with the region's worst outbreak of the coronavirus, Iran is marking the anniversary of the country's 1979 Islamic Revolution on wheels — cars, motorcycles, bicycles — instead of traditional rallies and marches. SENT: 500 words, photos.
UNITED-NATIONS-SYRIA — The top U.N. envoy for Syria urged the rival international players in Syria to bridge the divides that have blocked any moves toward peace, but the chasm remained too deep for the Security Council to take any action. SENT: 650 words.
KOBE-BRYANT-CRASH — Federal safety officials say the helicopter pilot who crashed, killing Kobe Bryant and all nine people onboard, likely was under self-induced pressure to deliver the star and his daughter and six others to a girls' basketball game. SENT: 1,070 words, photos.
CLINIC-SHOOTING-MINNESOTA — A 67-year-old man unhappy with the health care he'd received opened fire at a clinic, killing one person and wounding four others, and bomb technicians were investigating a suspicious device left there and others at a motel where he was staying, authorities say. SENT: 1,100 words, photos, video.
WATER TREATMENT PLANT-HACK — A hacker's unsuccessful attempt to poison the water supply of a small Florida city raises alarms about whether authorities can defend the nation's water systems against attacks by a more sophisticated intruder. SENT: 1,080 words, photos.
————————
BUSINESS/ECONOMY
————————
SMALL-BUSINESS-STRUGGLES-NEW-ORLEANS — The coronavirus pandemic is tamping down the joy — and the revenue — associated with the Carnival season in New Orleans. SENT: 1,200 words, photos, video.
FINANCIAL-MARKETS — Asian stock markets rose after Wall Street broke a six-day winning streak. By Business Writer Joe McDonald. SENT: 350 words, photos.
At the Nerve Center, Jerome Minerva can be reached at 800-845-8450 (ext. 1600). For photos, Wally Santana (ext. 1900). For graphics and interactives (ext. 7636). Expanded AP content can be obtained from https://newsroom.ap.org. For access to AP Newsroom and other technical issues, contact apcustomersupport(at)ap.org or call 877-836-9477.
Promises to build a wall. Descript ...
A western Montana couple were able ...