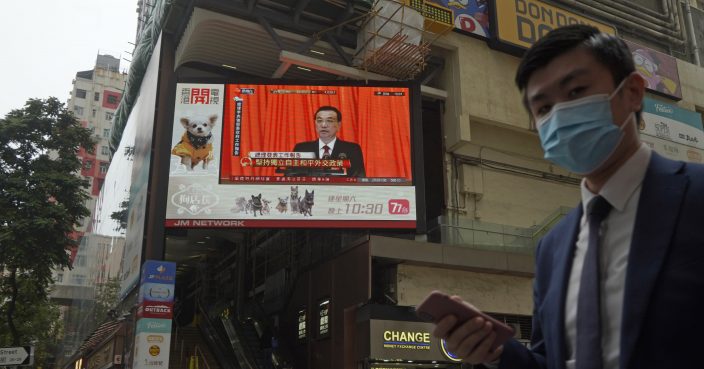 AP News Digest 3:30 a.m.
Here are the AP's latest coverage plans, top stories and promotable content. All times EST. For up-to-the minute information on AP's coverage, visit Coverage Plan at https://newsroom.ap.org.
ONLY ON AP
CAPITOL BREACH-MUTUAL AID — Hundreds of emails, texts, photos and documents obtained by The Associated Press show how a patchwork of law enforcement agencies from all directions tried to support Washington, D.C., as protesters poured into town on Jan. 6. But a lack of coordination and inadequate planning left the U.S. Capitol vulnerable, resulting in a deadly and potentially avoidable breach. By Martha Mendoza and Juliet Linderman. SENT: 1,780 words, photos. An abridged version of 990 words is also available. Also see CAPITOL BREACH-THREAT below.
TOP STORIES
IRAQ-POPE — Pope Francis heads to Iraq to urge the country's dwindling number of Christians to stay put and help rebuild the country after years of war and persecution, brushing aside the coronavirus pandemic and security concerns to make his first-ever papal visit. Iraqis were keen to welcome him and the global attention his visit will bring. By Nicole Winfield and Samya Kullab. SENT: 940 words, photos. With IRAQ-CHRISTIANS-TIMELINE.
Find more coverage of the pope's visit to Iraq here.
VIRUS-OUTBREAK — America's employers likely stepped up their hiring in February as confirmed viral cases declined, consumers spent big chunks of their government aid checks and the economy appeared to be sustaining a tentative recovery. By Economics Writer Christopher Rugaber. SENT: 620 words, photo. With VIRUS-OUTBREAK-THE-LATEST.
VIRUS OUTBREAK-CONGRESS — The Senate begins debating a $1.9 trillion COVID-19 relief bill after Democrats make eleventh-hour changes aimed at ensuring they can pull President Joe Biden's top legislative priority through the precariously divided chamber. By Alan Fram. SENT: 920 words, photos, video. With VIRUS OUTBREAK-CONGRESS-GLANCE.
MYANMAR — Footage of a brutal crackdown on protests against a coup in Myanmar unleashed outrage and calls for a stronger international response, a day after 38 people were killed. Videos showed security forces shooting a person at point-blank range and chasing down and savagely beating demonstrators. SENT: 1,230 words, photos, video. With MYANMAR-YOUTUBE — YouTube cancels Myanmar military-run channels, pulls videos.
CHINA-CONGRESS — China's No. 2 leader set a healthy economic growth target and vowed to make this nation self-reliant in technology amid tension with Washington and Europe over trade and human rights. By Joe McDonald. SENT: 1,070 words, photos. With CHINA-CONGRESS-DEFENSE-BUDGET — China boosts defense spending by 6.8% amid debt, pandemic; CHINA-CONGRESS-HONG-KONG — Pro-Beijing committee to elect some Hong Kong legislators.
VIRUS-OUTBREAK-NEW-YORK-NURSING-HOMES — Top aides to Gov. Andrew Cuomo altered a state Health Department report to obscure the true number of people killed by COVID-19 in the state's nursing homes, The Wall Street Journal and The New York Times reported. SENT: 600 words, photos.
WHAT WE'RE TALKING ABOUT
CREIGHTON-MCDERMOTT-SUSPENDED — Creighton suspends Greg McDermott for "plantation" remark. SENT: 320 words, photos.
VIRUS-OUTBREAK-APES-VACCINATED — Great apes get COVID-19 vaccinations at San Diego Zoo. SENT: 210 words, photo.
VIRUS-OUTBREAK-SPAIN-HOSPITAL-PHOTO-GALLERY — Madrid hospital staff learn to cope with virus. SENT: 700 words, photos.
CROATIA-SINKHOLES — Quake-ravaged part of Croatia sees gaping sinkholes emerge. SENT: 350 words, photos.
———————————————-
MORE ON THE VIRUS OUTBREAK
———————————————-
VIRUS-OUTBREAK-CALIFORNIA-REOPENING — This April should look very different than the last for California's nearly 40 million residents, with a new plan from the governor that will speed up reopening a year after he imposed the nation's first statewide coronavirus shutdown. SENT: 950 words, photos.
VIRUS OUTBREAK-ALABAMA-GOVERNOR — Alabama Gov. Kay Ivey has resisted political pressure to drop her state's mask order. SENT: 650 words, photos.
VIRUS-OUTBREAK-JAPAN — Japan's government will extend a state of emergency in the Tokyo region for another two weeks because its medical systems are still strained by COVID-19 patients. SENT: 480 words, photos.
WASHINGTON/POLITICS
VOTING RESTRICTIONS-GEORGIA — Georgia's governor and secretary of state won wide praise last fall for firmly rejecting Donald Trump's false claims of voter fraud, but now that those claims have spawned an effort to tighten voting laws, the two Republicans are taking a softer approach. SENT: 1,080 words, photos.
CAPITOL BREACH-THREAT — The acting chief of the U.S. Capitol Police is appealing to congressional leaders to back her request to keep National Guard troops protecting the building and lawmakers for another two months. SENT: 1,090 words, photos, video.
INTERNATIONAL
NEW ZEALAND-EARTHQUAKE — One of the strongest earthquakes to hit the South Pacific in modern history triggered tsunami warnings across the ocean and forced thousands of people in New Zealand to evacuate coastal areas. Small tsunami waves were seen, but little damage was apparent hours later. SENT: 720 words, photos.
UNITED NATIONS-SYRIA-CHEMICAL WEAPONS — The United States accused Syrian President Bashar Assad and his close ally Russia of trying to block all efforts to hold Damascus accountable for using chemical weapons during attacks on civilians. SENT: 670 words.
NATIONAL
RACIAL-INJUSTICE-ELIJAH-MCCLAIN — The mother of Elijah McClain tells the AP she isn't always hopeful but thinks it's possible her son's death at the hands of police in suburban Denver could create change. By Colleen Slevin. SENT: 760 words, photos.
CALIFORNIA-HIGHWAY-CRASH — One of the 13 people killed when the SUV smuggling them into California hit a tractor-trailer was a 23-year-old woman who was fleeing violence in Guatemala for the hope of a better life, family members say. SENT: 630 words, photos.
SAN FRANCISCO-HOMELESS HOUSING — San Francisco is paying $16.1 million to feed and house people in tent villages as the city struggles with a swelling homeless population. SENT: 320 words.
BUSINESS/ECONOMY
FINANCIAL-MARKETS — Asian shares slipped after surging U.S. bond yields renewed pressure on high-flying technology companies. By Business Writer Elaine Kurtenbach. SENT: 720 words, photo.
————————————-
ENTERTAINMENT
————————————-
THE-WANDAVISION-ILLUSION — In an era when immersive fictional universes are an entertainment staple, "WandaVision" took it a step further, turning the seven-decade tradition of the American sitcom into a decade-hopping suburban prison. By National Writer Ted Anthony. SENT: 880 words, photos.
SPORTS
BEIJING-UYGHURS-BAN KI MOON — Former U.N. Secretary-General Ban Ki-moon is being asked to rule on an ethics complaint filed against the International Olympic Committee by a human-rights group representing Uyghurs and other ethnic minorities in China. By Sports Writer Stephen Wade. SENT: 420 words, photo.
HOW TO REACH US
At the Nerve Center, Jerome Minerva can be reached at 800-845-8450 (ext. 1600). For photos, Wally Santana (ext. 1900). For graphics and interactives (ext. 7636). Expanded AP content can be obtained from https://newsroom.ap.org. For access to AP Newsroom and other technical issues, contact apcustomersupport(at)ap.org or call 877-836-9477.
Promises to build a wall. Descript ...
A western Montana couple were able ...