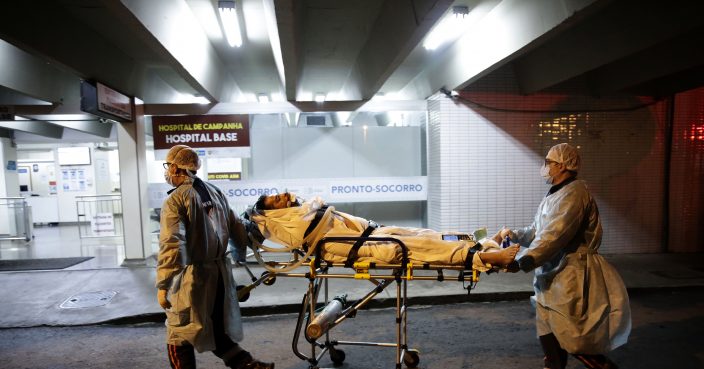 AP News Digest 3:30 a.m.
Here are the AP's latest coverage plans, top stories and promotable content. All times EDT. For up-to-the minute information on AP's coverage, visit Coverage Plan at https://newsroom.ap.org.
———————————-
ONLY ON AP
————————————
VIRUS OUTBREAK-J&J SUPPLIER — The company at the center of quality problems that led Johnson & Johnson to discard an unknown amount of its coronavirus vaccine has a string of citations from U.S. health officials for quality control problems. Emergent BioSolutons has been cited repeatedly by the Food and Drug Administration. By Richard Lardner and Linda Johnson. SENT: 950 words, photo.
TOP STORIES
VIRUS OUTBREAK — France is now Europe's latest coronavirus danger zone, but President Emmanuel Macron is resisting calls for dramatic action. He decided to stick to a strategy that aims to offer a "third way" between freedom and lockdown. It is meant to keep both infections and a restless populace under control until mass vaccinations take over. The government refuses to acknowledge failure, and it blames delayed vaccine deliveries and a disobedient public for soaring infections and saturated hospitals. Macron's critics blame arrogance at the highest levels. By Angela Charlton. SENT: 940 words, photos.
BIDEN-INFRASTRUCTURE-ANALYSIS — Infrastructure was a road to nowhere for former Presidents Donald Trump and Barack Obama. But Joe Biden believes he can use it to drive America to the future after a dozen years of false starts. The trip is unlikely to be smooth. By Josh Boak. SENT: 960 words, photos. With BIDEN-INFRASTRUCTURE-CONGRESS — Democrats aim for July vote as Congress digs in on infrastructure; BIDEN-INFRASTRUCTURE-GLANCE. Also see BIDEN-ABANDONED WELLS below.
IMMIGRATION-BORDER-RELEASES — Overwhelmed and underprepared, U.S. authorities are releasing migrant families on the Mexican border without notices to appear in immigration court or sometimes without any paperwork at all — a time-saving move that has left migrants confused. By Elliot Spagat. SENT: 1,050 words, photos.
CALIFORNIA-OFFICE-SHOOTING — A child was among four people killed in a shooting at a Southern California office building that left a fifth victim and the gunman critically wounded, police say. The violence in the city of Orange southeast of Los Angeles was the nation's third mass shooting in just over two weeks. By Stefanie Dazio and Robert Jablon. SENT: 460 words, photos.
SAME-SEX-MARRIAGE-20-YEARS — Twenty years ago, the mayor of Amsterdam married four couples in City Hall as the Netherlands became the first country with legalized same-sex marriages. Today, same-sex marriage is legal in 28 countries worldwide, including most of Western Europe. Yet its spread has been uneven. Taiwan is the only place in Asia to take the step; South Africa is the only African country to do so. Added together, the countries with same-sex marriage are home to about 1.2 billion people, roughly 15% of the world's population. By David Crary and Mike Corder. SENT: 1,000 words, photos.
GAZA-HAMAS-FORCED-DIVORCE — After months of torture and interrogations in a Hamas prison, Palestinian activist Rami Aman says he was offered an unconventional proposition: Divorce your wife and you are free to go. By Fares Akram. SENT: 1,280 words, photos. An abridged version of 940 words is also available.
WHAT WE'RE TALKING ABOUT
DUBAI-ART-IN-THE-PANDEMIC — In Dubai, an art show's return reflects city's new normal. SENT: 740 words, photos.
BIDEN-BASEBALL — Biden says Texas Rangers making mistake by allowing full capacity. SENT: 570 words, photo.
SAN-FRANCISCO-SCHOOLS-RACIST-TWEETS — San Francisco school board member sues over tweet response. SENT: 370 words, photo.
NEW-ZEALAND-BUSINESSMAN-PLEADS-GUILTY — New Zealand businessman guilty of having child abuse images. SENT: 430 words, photo.
MEXICO-CHILD MIGRANTS — Mexico finds 3-year-old Honduran boy near U.S. border alone.
MORE ON THE VIRUS OUTBREAK
VIRUS-OUTBREAK-INDIA — There isn't any room at Sion Hospital in India's megacity, Mumbai - approximately all 500 beds reserved for COVID-19 patients are occupied. SENT: 910 words, photos. With VIRUS-OUTBREAK-THE-LATEST.
VIRUS-OUTBREAK-JAPAN — Japan is set to designate Osaka and two other prefectures for new virus control steps as infections in those areas rise less than four months before the Tokyo Olympics. SENT: 330 words, photos.
VIRUS-OUTBREAK-VIRAL QUESTIONS-VACCINE-INFECTION — Experts are still studying how good COVID-19 vaccines are at preventing people from spreading the virus, but say the risk is low. SENT: 310 words, graphic.
VIRUS OUTBREAK-CALIFORNIA — April is bringing a fresh breath of warm spring air to California after a stale year of coronavirus closures. SENT: 890 words, photos.
VIRUS OUTBREAK-CABIN FEVER-PHOTO GALLERY — One year into the pandemic, just about everyone's travel experience has changed. SENT: 260 words, photos.
VIRUS-OUTBREAK-BRAZIL-PRAYERS-PHOTO-GALLERY — Brazil pastor brings prayers to COVID-19 patients. SENT: 370 words, photos.
WASHINGTON/POLITICS
BIDEN-ABANDONED WELLS — Biden's plan to transform America's infrastructure includes $16 billion to plug old oil and gas wells and clean up abandoned mines. SENT: 710 words, photos.
BIDEN-CABINET — Biden plans to convene his first Cabinet meeting, but it will look very different, due to the pandemic. SENT: 790 words, photos. UPCOMING: 900 words after 1:15 p.m. meeting.
———————————-
INTERNATIONAL
———————————-
HONG KONG-POLITICS — Seven Hong Kong pro-democracy advocates were convicted on charges of organizing and participating in an unlawful assembly during massive anti-government protests in 2019 that triggered a crackdown on dissent. SENT: 460 words, photos.
NATIONAL
GEORGE-FLOYD-OFFICER-TRIAL — George Floyd's struggle with three police officers trying to arrest him, seen on body-camera video, included Floyd's panicky cries of "I'm sorry, I'm sorry" and "I'm claustrophobic!" as the officers tried to push Floyd into the back of a police SUV. SENT: 720 words, photos, videos.
ANTI-ASIAN ATTACKS-VOLUNTEERS — From coast-to-coast, Asian American groups were already doing more than digital activism, including patrolling, escorting and chaperoning in Asian communities. SENT: 1,010 words, photos.
PIRATE-PLUNDER — A handful of coins unearthed from a pick-your-own-fruit orchard in rural Rhode Island and other random corners of New England may help solve one of the planet's oldest cold cases. SENT: 960 words, photos.
MARIJUANA-NEW-MEXICO — New Mexico is joining a wave of states that are legalizing recreational marijuana as its Democrat-dominated Legislature sent a package of cannabis bills to a supportive governor. SENT: 760 words, photos.
WASHINGTON-CHERRY BLOSSOMS — Officials in the nation's capital are watching the crowds as cherry blossom season begins in earnest. SENT: 560 words, photos.
———————
BUSINESS
——————-
FINANCIAL MARKETS — Asian stock markets followed Wall Street higher after Japan and South Korea reported unexpectedly strong economic data and Biden announced a $2.3 trillion U.S. infrastructure spending plan. By Business Writer Joe McDonald. SENT: 470 words, photos.
SPORTS
TIM DAHLBERG-TIGER WOODS — Yes, Tiger Woods deserves privacy as he heals but the people of California deserve something too. By Sports Columnist Tim Dahlberg. SENT: 810 words, photos.
HOW TO REACH US
At the Nerve Center, Jerome Minerva can be reached at 800-845-8450 (ext. 1600). For photos, Wally Santana (ext. 1900). For graphics and interactives, ext. 7636. Expanded AP content can be obtained from https://newsroom.ap.org. For access to AP Newsroom and other technical issues, contact apcustomersupport(at)ap.org or call 877-836-9477.
Promises to build a wall. Descript ...
A western Montana couple were able ...